At Blowout Prices | From $2.94 SF
Wood-Look Porcelain Tile
Imported From Italy & Spain
See Samples Here!
Natural Finish
Low Maintenance
Many Colors & Styles to Choose From
WOOD-LOOK PORCELAIN TILE
See Samples Here!
8" X 32" | ASH RETT
POR358
8" X 32" | WHITE RETT
POR359
New Porcelain Tile
Ask About
Our Free Design Offer!
Or Click Here!
CONTEMPORARY PORCELAIN
POR290
Innovative | Modern | Stylishly Clean
12" x 24" | Jalari Grey
Porcelain Tile
Imported From Italy
POR289
12" x 24" | Jalari Smoked
Porcelain Tile
PORCELAIN TILE
POR264
12" x 24" | Leaf White
Empty section. Edit page to add content here.
Empty section. Edit page to add content here.
The 6 Biggest Bathroom Trends Of 2015 Are What We've Been Waiting For
The Huffington Post  | By Samantha Toscano
This year, the kitchen as we know it completely changed. Shelving opened up, cabinets went darker and metallic accents moved well beyond cabinet knobs. But come 2015, we can expect to see a major overhaul in a different room of the house — the bathroom. Everything from sinks and color schemes to tubs and tiles will see some sort of upgrade, according to the National Kitchen and Bath Association's style report as well as the trends we've seen in the decor sphere, and this is how we expect interior designers and homeowners everywhere to go about it…
Out With The Old: Coastal Cottage Style
In With The New: Clean Contemporary
According to the National Kitchen and Bath Association's style report, more than 400 designers agreed there is a move toward simplicity in a cleaner, more contemporary way. That's not to say they are going to completely lose their more cozy, rustic charm for all-out glamour, but they will have cleaner lines and more minimalist modern vibe.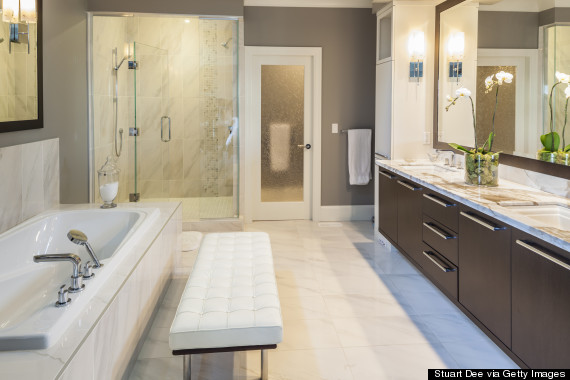 Five Ways Technology is Changing the Tile Industry
Advances in technology are driving significant changes within the tile industry, two partners of a Melbourne based tile distribution firm say. EARP Bros partners Luca Costanza and Andrew Gordon outlined a number of developments which are affecting both the industry and the way tiles are being used – most of which are being driven by technical advances in manufacturing processes. You can read the full article at Sourceable.net.
Check Out Our Yelp Review!
OK, so I haven't bought the tile yet, but I just want to give a shout out to Ivan, the Sales Rep.  He took time with me, taught me about floor tile and design, countertop materials.  He wandered around the store with me and my floor samples.  He remembered my name and my ideas when I came in for a second visit.  He's great.  A kitchen renovation can feel so overwhelming.  I walked in fearing that I was going to spend a ton of money and end up with something that I didn't like.  After two 20 minute meetings with Ivan, I am certain that I have something that I will love. -Miranda H.